A tilt or swivel TV mount lets you tilt and adjust your TV's viewing angle and allows plenty of room for the cords between the wall and the TV. In fact, even the smaller components could be attached at the rear of the mount, assuming that you have a power outlet at the back of the TV, which is something that we can also do for you. 
This can help you achieve an extremely wireless look without hanging cords or any nearby components that require a surface for sitting on. Reliability is the additional advantage of not needing to squeeze cords in a tight space. After some time, cords like an HDMI bent at severe angles, usually at angles of 90 degrees, will start to glitch and fail. This is the reason why a tilt TV mount is sometimes more preferred than other types of mounts.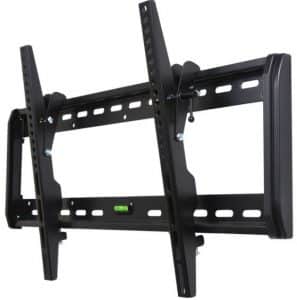 Adjustable viewing angle of up to 15 degrees

Better viewing angle as compared to fixed mount

Can accommodate almost all types of TV

Budget-friendly
More expensive compared to fixed mounts

Less flexible compared to full motion mounts
Tilt or swivel TV mounts are best in boardrooms as well as above the fireplace. 
With the help of tilt or swivel mounts, you can be sure that you will enjoy your TV at your preferred angles. Contact us at Utah TV Mounting, you can look forward to expert installation so you would have one less worry off your shoulders!